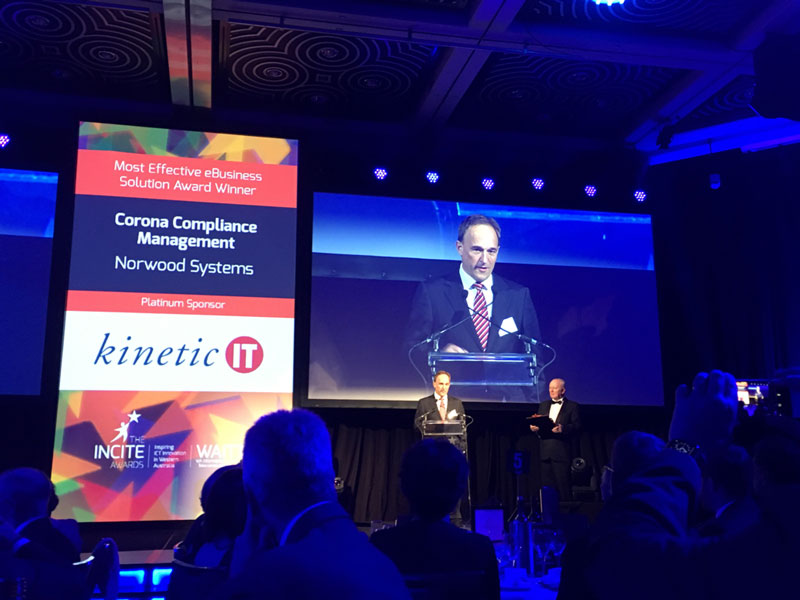 Highlights
Norwood System's Corona Compliance Management Solution receives the WAITTA award for Most Effective eBusiness Solution.
Norward Systems (ASX:NOR) is pleased to announce it is the winner of the WAITTA Incite award for the Most Effective EBusiness eBusiness Solution for the Company's Corona Compliance Management service. This marks their fifth WAITTA Incite Award in four years.
Corona Compliance Management allows businesses in highly regulated industries, such as financial services, to automatically enter text messages sent between their employees and clients into the leading corporate compliance platforms. This provides previously unavailable enterprise wide integration of core mobile voice and messaging services into corporate compliance and CRM systems.
The Incite Awards showcases ICT innovation and excellence across 10 awards – recognising individual achievements, product innovation and project excellence. WAITTA is the Western Australian Information Technology and Telecommunications Alliance. The Alliance has a non-political agenda and started in 1991 with the intention to recognise outstanding performance and contributions by members of the ICT community in Western Australia. The acknowledgment of the work these people do, and their contribution to the strength of the overall digital economy, in Australia, is a vital element in ensuring ICT innovation is nurtured and encouraged.
The Incite award was received for CORONA Corona Compliance Management in the "Most Effective EBusiness eBusiness Solution" category, which recognises outstanding ICT solution created in WA that is used to improve transactional processes. Organisations in the Finance, Resources and Healthcare sectors are subject to regulations regarding the retention of communications including text messages which currently cannot be systematically recorded and archived. The Corona Compliance Management solution enables businesses and public-sector bodies to achieve compliance by capturing and retain SMS messages and voice call data for communications between their staff and customers, clients and patients.
The judges take into account the degree of innovation in reference to uniqueness, complexity and creativity.
This is not the first time Norwood has won an Incite Award – in fact it is the fifth. Previous awards have been received twice for Corona Cloud in 2014 in the New Product Category – Development Domain and the Industrial Category – Industry Domain and twice for World Phone in 2015 for the Product Domain and Society Domain Consumer categories. Additionally, in 2016 World Wi-Fi was runner-up in the Most Disruptive Innovation category and represented WA at the National iAwards.
Norwood Systems CEO and founder, Paul Ostergaard commented:
I am extremely proud to accept the Incite Award for our Corona Compliance solution. I was also delighted to be able to accept the award in person at the WAITTA ceremony in Perth on the 16th of June.Our Corona Compliance solution has been specifically designed to meet the needs of firms in regulated industries such as Financial Services, Resources, and Healthcare. This award – as well as the customer trials about to commence – validates our strategic decision to invest in new products and services to meet the needs of an under-served category.I know that my team have all worked extremely hard to get us to this point, and while this award is due recognition of all their efforts, they know that the job is not done and they remain focused on ensuring Norwood is able to successfully support the needs of our global customers.