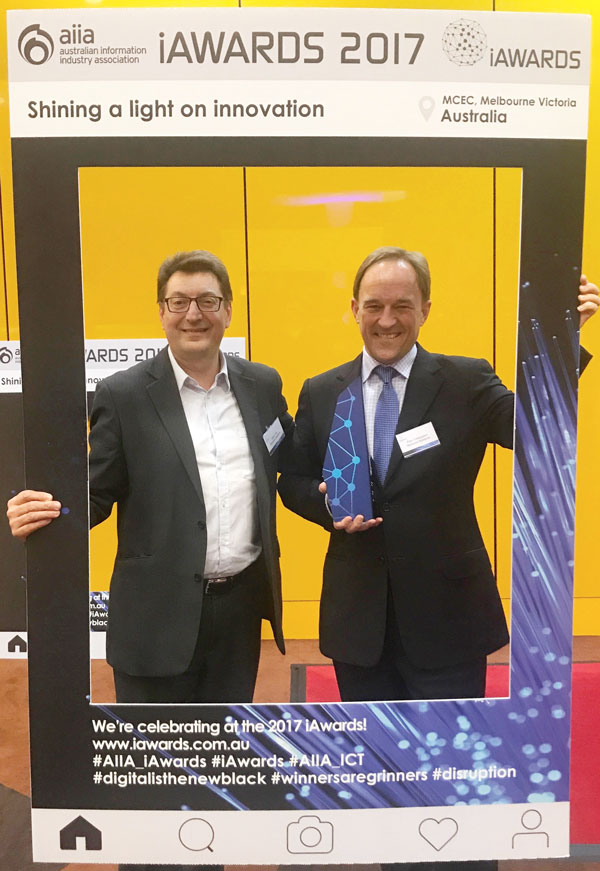 CEO, Paul Ostergaard (Right) and GM of Enterprise, Steve Tot (Left) at the iAwards 2017 in Melbourne.
Norward Systems (ASX:NOR) is pleased to announce it is the winner of a National iAward 2017 in the Business Service Markets category for its revolutionary regulatory compliance platform, Corona Compliance.
Organisations in Finance, Healthcare and Government sectors are often subject to regulations regarding the retention of all business communications. For such organisations, communications based on SMS messages or mobile voice calls can be very difficult to systematically record and archive, creating a significant potential regulatory problem for these organisations.
Corona Compliance provides a unique platform approach to solving this problem for clients in such regulated sectors.
Corona Compliance is a platform that enables organisations to capture and retain smartphone voice call and SMS conversations between their staff and customers, clients and patients using high-quality virtual smartphone software on their employees' mobile handsets to intercept and archive the necessary information.
The captured data can be stored either in the Corona Cloud platform or in the customer's own regulatory archival system using, for instance, the Veritas Enterprise Vault or the Global Relay archival platforms.
The iAwards showcase ICT innovation and excellence across 15 categories – recognising individual achievements, product innovation and project excellence. The key goal of the iAwards is to discover, recognise and reward the technology innovations that have potential to, or already having a positive impact on the community – at home, in the office, and on a global scale. Corona Compliance was an outright WAITTA Incite Award winner earlier this year, and as such was eligible to compete in the National iAwards. The Incite Awards showcase the brilliance of ICT in Western Australia and are organised by the Western Australian Information Technology Telecommunications Alliance (WAITTA).
The iAward was received for Corona Compliance in the "Business Services" category, which recognises digital business to business solutions that drive and deliver businesses with high levels of productivity and competiveness.
This is Norwood's third National iAward in four years, in addition to the Company's five WAITTA Incite Award wins at the state level during the same timeframe. These awards collectively identify Norwood as one of the most innovative firms in the Australian ICT sector. Previous National iAwards have been received for World Phone (Consumer category, 2015) and Corona (New Product category, 2014). As an iAward winner, Norwood Systems will now be part of the Australian contingent competing at the 2017 Asia Pacific ICT Alliance (APICTA) Awards to be held in Dhaka, Bangladesh on the 6th to the 9th December.
Norwood Systems CEO and founder, Paul Ostergaard commented:
We believe Corona Compliance provides a unique solution to the dilemma facing many organisations in the Finance, Healthcare and Legal services sectors around the world. Given the rise of regulations worldwide regarding retention of business communications records, and given the increasing use of smartphones for communications between staff and external parties, there is a strongly growing need for smartphone archival capabilities, such as those delivered by Corona Compliance. This award, coupled with the strong market response we are seeing for our Corona Compliance solution globally, very much validates our strategy. I'm personally extremely proud and honoured for a Norwood platform to be recognised by this ultimate Australian national ICT accolade for the third time in four years. This award is due recognition of the tremendous work done by the entire Norwood team to get us to this point. We are not sitting on our laurels, however, and the Company remains focused on its core objective: driving significant market adoption of the Corona Compliance platform into Finance, Healthcare and Legal services clients around the world.