World Voicemail has many useful features designed to give you more control and utility over your voicemail. Below is a list of key preferences. Click on any of them to skip to learn more about what they are and how they work.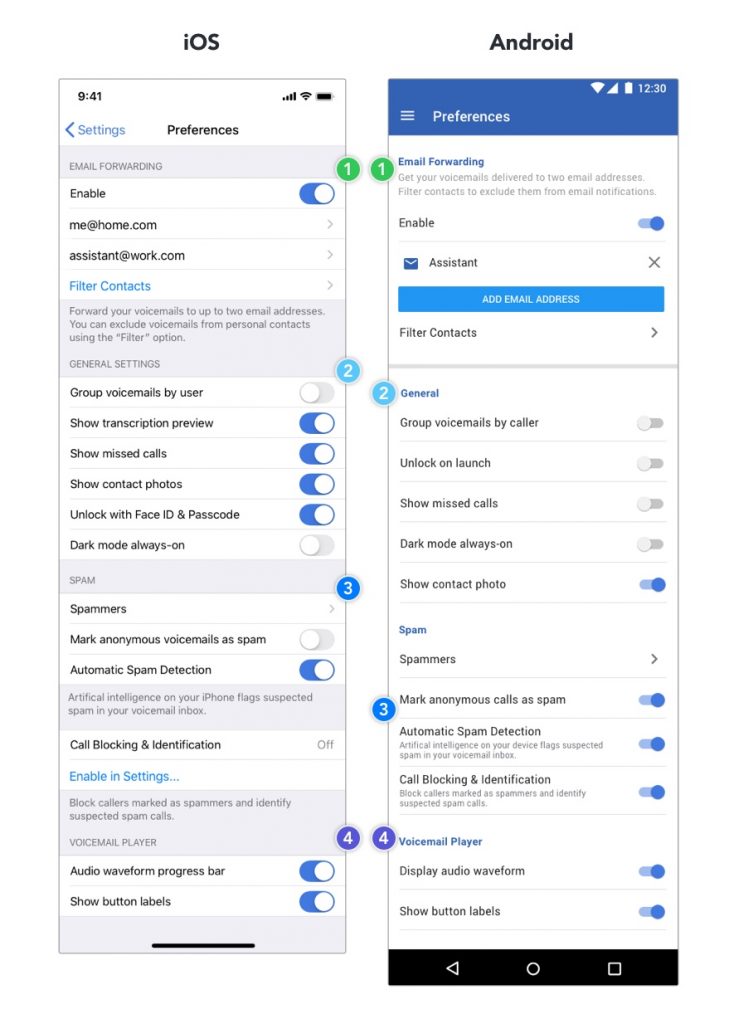 Email Forwarding
Add up to two email addresses to receive your voicemails right in your inbox. Why two email addresses? So you can boost your responsiveness by also sending voicemails to your assistant or team to respond on your behalf.
To add an email address, tap Add Email, enter a name or label and an email address. Click Save when complete.
Filter Contacts
You can also filter out voicemails from personal contacts, so their voicemails do not send to your elected email addresses.
General Settings
Personalise your World Voicemail experience with these useful enhancements and features:
Group voicemails by caller
Enable this feature to group voicemails by contact. This cleans up your voicemail inbox and organises your voicemails into threads.
Show transcription preview (iOS only)
Enable this feature to see a preview of your voicemail's transcription in your voicemail inbox.
Show missed calls
Enable this feature to also see missed calls in the World Voicemail app.
Show contact photos
Enable this feature to enhance your voicemail previews with contact photos.
Unlock
Enable this feature to add a secondary layer of security on your voicemails. Use your biometrics (face or fingerprint scan) to unlock the app upon launch.
Dark mode always-on
Enable this feature to set the App in dark mode regardless of your device's current setting or support for native dark mode.
Spam
Here are the various settings available for our anti-spam functionality:
Spammers
Add a number into the Spammers list to block or silence subsequent voicemails from that number. You can numbers into this list by clicking into this menu and adding a contact, or selecting Mark Caller as Spammer after clicking Delete on a voicemail in the Voicemail inbox.
Mark anonymous calls as spam
Enable this feature to automatically send unknown or anonymous voicemails to spam.
Automatic Spam Detection
Enable this feature to allow our on-device artificial intelligence (AI) to detect and inform you of Suspected Spam voicemails automatically. The next time you receive a voicemail that the App thinks is likely to be spam a Suspected Spam label will appear below the contact number.
Call Blocking & Identification
Enabling this feature activates the following behaviour:
Subsequent calls from numbers in the Spammers list will instantly go to voicemail or get blocked after this feature is enabled.
Subsequent calls from numbers already marked as Suspected Spam will also display as Suspected Spam.
Voicemail Player
These settings control a few elements in your voicemail player accessible from the App's inbox.
Audio waveform
Enable this feature to display a waveform in the voicemail player's audio progress bar.
Show button labels
Enable this feature to display labels for the voicemail actions available in the voicemail player.